Book Review – They Almost Always Come Home – Cynthia Ruchti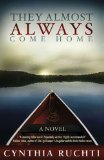 Why is it that we have to lose something before we appreciate its value? Most importantly, why is that we have to lose someone before we appreciate their value? This is what I took away from the powerful debut novel by my good friend, Author Cynthia Ruchti.
They Almost Always Come Home is a tightly written mixture of smart humor and sober life lessons. From the very first page until the last, I was drawn into the lives of its very human characters.
I read quite a few books and many, while their subject matter is good, the writing is laborious. Reading becomes a discipline and a chore.
But They Almost Always Come Home is neither. Cynthia's writing is so very tight, her word choice so delicate, like the painter who painstakingly chooses just the right shade for the canvas.
The pacing is perfect. It has neither the break-neck speed of a thriller, nor the tiresome plodding of some literary novels. Cynthia carefully and methodically walks you through the real-life struggles and adventure of a woman not only searching for her lost husband, but searching for her lost heart.
You will not only come away with a greater appreciation for the beauty of the Northwoods, you will look again at your own relationships and your own relationships, planting the seeds of selflessness and Christ-like love that help them blossom through the seasons of life.
I highly recommend They Almost Always Come Home as a delightful and captivating summer read.