Publisher's Weekly Review of iFaith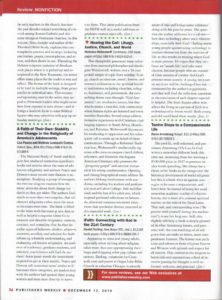 If you're an author, you know that Publisher's Weekly is the Holy Grail of book publications, the go-to guide for anyone in the industry. Getting a review in Pub Weekly is often as elusive as getting an interview on Oprah or reaching the NYT bestseller list.
Which explains my shock to see iFaith reviewed today on Publisher's Weekly's website! I'm honored. Here is what they said:
iFaith: Connecting with God in the 21st Century
Daniel Darling, New Hope (STL, dist.), $12.99 trade paper (160p) ISBN 978-1-59669-294-7
Appealing to teens and young adults, especially when writing about religion, takes more than just appropriating their lingo and dropping a few pop culture references. Darling, columnist for Crosswalk.com and pastor at Gages Lake Bible Church in suburban Chicago, is astutely aware of this and brings some substance along with his punchy prose. The question the author addresses is a vital one–how does technology affect one's relationships, especially with God? Darling warns young people against using technology to insulate themselves from the realities of life, as this results in missing where God is most present. He urges that they embrace an "unsafe life" and take some chances, because people who are outside of their cocoons of comfort feel God's presence most acutely. A young, tech-savvy audience will be challenged but not threatened by the author's suggestions, and they will find the reflection questions at the conclusion of each chapter especially helpful. The final chapter offers wise advice for living as a person of faith in a technologically driven world. Both young and old could heed these words. (Jan. 3)
I'm surprised and humbled. Thank you, Publisher's Weekly!