Special Offer from Covenant Eyes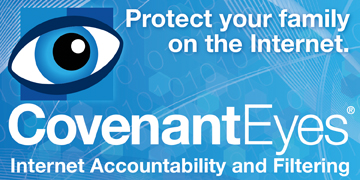 A few months ago I signed up for Covenant Eyes, what I consider the best Internet filtering system available. I signed up for three reasons:
I love my marriage enough to protect it. I love my family enough to protect them. I love my church enough to protect what God has given me in them.
I don't trust myself online. I do most of my work on a laptop and a lot of work researching, reading, writing, etc online. And while I honestly don't have a problem with pornography, I don't ever want to have one. And I don't trust the weakness of my sinful flesh.
I, like most men, need accountability. I recently heard a sermon by Matt Chandler where he said, "What's in the dark grows." Covenant Eyes gives me that accountability online. A report of all my online activity is monitored by a friend of mine who is willing to confront me if something looks fishy.
I also use Covenant Eyes because I don't want my young children stumbling onto something inappropriate. So why Covenant Eyes in particular? Well, I like it for a few reasons. First, the accountability piece I just mentioned. Secondly, it has great features that allow you to set levels for each Internet user (our kids are younger so this isn't really an issue, but will be great when they are mature enough to use the Internet). Third, you can set time limits on Internet usage.
There are a whole range of other offers that are terrific. I've gotten to know and admire the wonderful folks from CE pretty well. And they have given readers of this blog a special discount. If you click on this link (or their logo on the right hand side of this blog), you can sign up for only $8.99 and get the first month free.
I highly recommend Covenant Eyes. It's a flexible, innovative, and inexpensive way to protect your family online. Here are a few instructional videos: