Friday Five Interview: S. Michael Houdmann (Gotquestions.org)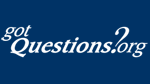 This is the last of three classic Friday Five interviews I'm posting while our family enjoys some vacation time. This is with S. Michael Houdmann, founder and proprietor of Gotquestions.org, one of the most heavily trafficked Christian sites online. And believe it or not, this interview continues to be one of the most popular pages on my blog:
Last year, while attending the annual gathering of the IFCA, I stopped by a booth and met S. Michael Houdmann, a graduate of Calvary Bible College and Seminary. He introduced me to his powerful website, gotquestions.org. I remember thinking, "Why hadn't I discovered this before?" Since that time I've regularly visited gotquestions.org. Its a unique ministry idea. Essentially they answer Bible questions every week, not just easy questions like "Who is Jesus?" but tough theological questions. And every single question is answered with Biblical precision and accuracy. I can't tell you how many times I was preaching or counseling on a narrow theological idea and just needed a sort of launching point in Scripture and turned to gotquestions.org. They have an archive of thousands of questions and even have a page of FAQ, what they consider their most important questions about God and the Bible.
By the way, Got Questions is now available as an iPhone app.
I think gotquestions.org is one of the most profoundly useful tools to the Christian today. Today, we have the privilege of talking about gotquestions with its founder, S. Michael Houdman.
1) When you first started gotquestions.org, did you have any idea at how big it would become?
When my wife and I launched www.gotquestions.org in February of 2002, we thought it would be a "hobby." We had no intention of growing it into a ministry, and never dreamed that it would eventually become a ministry at which I was employed. We simply wanted to provide a place where people could anonymously ask any spiritually-related question that they had and receive a biblically-based answer in response. God took our simple and small idea (actually it was God's idea) and exploded it into something far beyond we ever imagined. In the past 8+ years, GotQuestions.org's traffic and impact have grown exponentially. We were recently informed by an independent internet traffic site that GotQuestions.org is perhaps the 2nd most heavily trafficked Christian website in the world. It was several months before we received our first profession of faith through one of the Gospel presentation pages. In recent months we have been averaging over 10,000 professions of faith per month! If even 1% of those are genuine first-time decisions to receive Christ as Savior, that is still an amazing number. To God be the glory!
2) Do you think this is a reflection of people's desire for spiritual answers?
Studies show that after pornography (sadly), the second most commonly searched for topic is spirituality/religion/faith. People are definitely seeking for spiritual answers. And while it would be best if people would seek answers from solid, Bible-teaching churches, that simply is not the case today. The internet is often the first place people begin to look, so God has called us to fill that void with solid, biblically-based answers.
3) Gotquestions.org doesn't shy away from tough, theological questions. I'm sure that has gotten you some grief at times. Why tackle the tough stuff?
Sometimes I wish we could avoid the tough and controversial issues. The amount of "hate" we receive can be discouraging at times. However, controversial and difficult topics are the ones that most people have questions about. And, controversial topics are the ones that most need a solid, biblically-based answer. God has called us to speak the truth in love on any question we receive, not just the easy ones.
4) I think what makes gotquestions.org such a valuable resource is the thorough Biblical treatment of each question as well as the solid doctrinal foundation. How do you evaluate your answers? Do you have a team who looks them over?
Before any answer is sent out to a questioner, it is reviewed and approved by at least one of our editors. Also, we have a fairly stringent interview process before a person is approved as a writer. That guarantees the answers will be of a high quality even before they reach the editor. If an answer is chosen to be published online as a FAQ, it is reviewed even more closely, to make sure it says everything it needs to say and is worthy of publication for the world to see.
5) What do you think is the future of the internet, ministry, and the church?
Technology is growing/changing so rapidly. It is difficult to discern what direction it is going and what platforms will be leading in the future. As the speed of the internet gets better and better, more and more things are possible. It seems like the world is heading more towards being connected all the time. Having a computer at work and at home is not going to be the norm much longer. Smartphones, netbooks, tablets, etc. are making the web more mobile. As a ministry, we are seeking to find ways to make GotQuestions.org content easily-accessible in all of these venues. We always have our eyes open to new possible ways to reach people for Christ online.