Book Review: Gabby Stick-to-It Day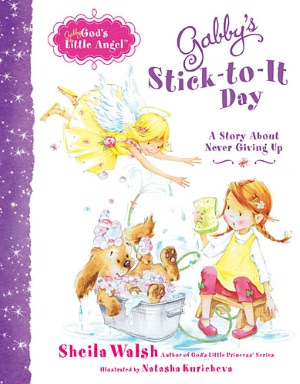 Usually I review adult books here on the blog, but as the father of four young children, I occasionally like to review children's books. Three of my kids are girls, so I'm constantly trying to introduce them to good resources that point them to Jesus. That's why I love the resources put out by Sheila Walsh, singer, songwriter, and author. We especially enjoy the Gigi, God's Little Princess DVD series. It helps instill in them the truth that God created them uniquely and loves them unconditionally.
Sheila's latest book for girls is Gabby's Stick To-It Day. It's a light, beautifully illustrated storybook that shares the tale of a girl who has a hard time finishing things and an angel who observes. I love this story because it subtly reinforces the values of persistence and faithfulness in little girls, especially when their favorite tasks get hard.
It's one more good book to add to your children's library, one that will stand out, not simply for the values it teaches, but more importantly for the Jesus who loves them.
I highly recommend this book.