Friday Five: Babbie Mason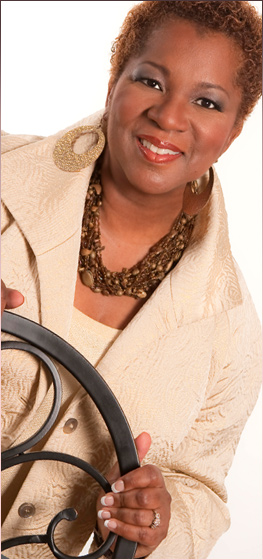 As a kid, one of my favorite Christian music artists was Babbie Mason. In fact, I performed a sign-language song performance to her popular hit, "Each One Reach One."
Babbie Mason is a Dove Award-winning and Grammy nominated gospel singer, songwriter, and author. Babbie is also a professor of songwriting at Atlanta Christian College and Lee University, and a television talk-show host. She was inducted into the Christian Music Hall of Fame in 2010 and has appeared on numerous national television and radio programs. Babbie has been honored perform for several U.S. Presidents. She has just released her devotional Embraced by God.
Today, she was kind enough to stop by and chat about her long career, her latest book, and mentoring future artists:
You grew up in church as a pastor's daughter. Did you feel pressure to be "in the ministry" full-time? 
I never felt pressure to go into the ministry as a full time vocation.  As a matter of fact, it was the total opposite in my case. I think I felt more pressure to complete my education and enter the workforce. I remember going to my dad right after I had graduated from college and I expressed an interest in going into the ministry. He firmly said to me, "No. You don't need to go into the ministry.  You need a job."  The next day I was interviewing for my first teaching job and the day after that I was hired as a middle/high school music teacher.
Was there a moment when you knew that you knew you'd choose a career in music? 
Yes, I did teach school for about 8years. Over that time, I was singing on weekends at churches during the summers and Christmas vacations. Soon my singing calendar began to nudge me out of the classroom. In essence I was spinning plates as a full-time wife and new mother, teaching private music lessons after school, teaching and singing. I wanted to quit my teaching job but did not want to give up the benefits. My husband had a small business but no benefits. I felt an obligation to my family to keep my job so I could take care of our growing family.  I grew exhausted and knew that something had to give. The night before I had to return the form to notify my principal if I'd be coming back in the fall, a good friend of mine came by with a friend of hers.  By the end of our meeting her friend offered to buy our health insurance for the first year so I could quit my job and go into the music ministry without concern for the welfare of my family. At that moment, there was no more doubt that I would leave the teaching profession and launch a music ministry.
You've sung for Presidents, on the Gaither tour, to adoring crowds and yet, in your book, you admit that you struggled to feel loved by God. Why is that? 
I've always known that God loves me.  I just didn't know or understand how much. Anything that you don't understand, you tend to fear. Then I read John 17:23 that tells me that God loves me just as much as He loves Jesus. The truth of this started me on a journey of discovery to understand just how much God loves, treasures, and delights in me. Granted, I still don't fully understand His great love for me, but my response to His love is no longer an unhealthy fear, but I am compelled by a deep desire to please Him with my life. This love revelation has generated a love revolution.
If you had a secret to your stability and longevity in music ministry, what would that be? 
I think that there are two parts to this. Partly, I think I'm driven – driven to develop and use my gifts and talents for God. I'm blown away that I get to do all that I do for the cause of Christ. I'm grateful that I have parents who used all of their gifts to help others and bless God in the process.  By their lifestyle, they demonstrated that you can serve God and people regardless of age or stage. Dad was a pastor, and Mom served with him for 40 years in the same church. They made service look so appealing.  I think I caught that from them. They taught me and my siblings that God honors good old-fashioned work ethic and service. On the other hand, God with His grace and mercy has taken my two fish and five loaves and used it to encourage others. What little I have, He has blessed it, broken it, and multiplied it beyond anything I could ever imagine. I still believe that my best days are still ahead of me.
You mentor emerging artists. If you could give one piece of advice to an aspiring musical artist, what would that be?  
I'll stress here what I stress over and over in our Inner Circle gatherings and in my classrooms where I teach songwriting and work with Christian artists. Your work is based on inspiration – that ingredient that comes from God, so give Him room to work. Surrender all that you are to all that He is. Then you'll need perspiration – that ingredient that you will contribute. Give God something to work with. Learn your craft. Be your best.  Never settle for mediocrity.  When you combine God's super with your natural, you'll find God taking you places you never dreamed you could go.