Friday Five: Jenny and Tyler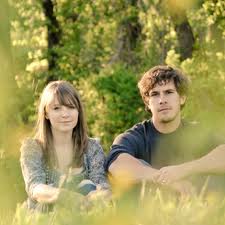 Jenny & Tyler are a husband-wife pop-folk band originally from Newark, Delaware, and currently based in Nashville, Tennessee. The group consists of singer-songwriters Jenny Somers and Tyler Somers. They have a unique style that has often been called, "soul grass." The duo has independently released three full-length albums and two EPs, and regularly tours the United States. They have collaborated with artists such as Mac Powell, Levi Weaver and Joel Rakes.They have just released a brand-new album, Open Your Doors. 
I found their music on Noisetrade and immediately loved its creativity, originality, and spiritual depth. So I asked them if they'd stop by for a short, but sweet interview on today's Friday Five:
Was there a moment in each of your lives when you knew music would be your life? 
There wasn't a specific moment per say, but when we first went to Nashville together during the summer of 2006, we solidified a lot of things, both relationally and musically.  Part of the reason for solidifying musically was because we were given free studio time at a place called Dark Horse, where we decided to record each of our best five songs.  Those songs became our first record, A Prelude.
A few years ago, you packed up everything and moved to Nashville. Wasn't this a great leap of faith?  
Because before moving to Nashville we'd spent time living there (and had jobs and an apartment lined), it really wasn't a huge leap of faith.  Going full time with music about 6 months after we moved there, however, was more of one, but still not what I, Tyler, would consider a true leap of faith.  It really seemed like God paved the way for us, so that it felt more like taking a small step than a leap.  For example, when we set out on the road on the first ever tour in February 2009, we knew that a few dates of that tour guaranteed us enough money to cover our expenses for that whole month, which included newly purchased health insurance.  That's been the case ever since.  God's always provided more than we need.
I think a lot of aspiring musicians might think that all they need is a guitar and a Youtube account to "make it big." But isn't that easy, is it? 
It takes a lot of work.  We spend the most time behind a computer and steering wheel 🙂  Here's a blog post we wrote about it, part 1:
and part 2.
If you could say one thing drives your music, what would that be? 
The grace and love of God found in Jesus Christ.
Lastly, if you could give one piece of advice to an up and coming young musician, what would that be? 
Give away free music in exchange for email addresses and zip codes. J  Go to noisetrade.com for this.