Activist Faith Releases Next Week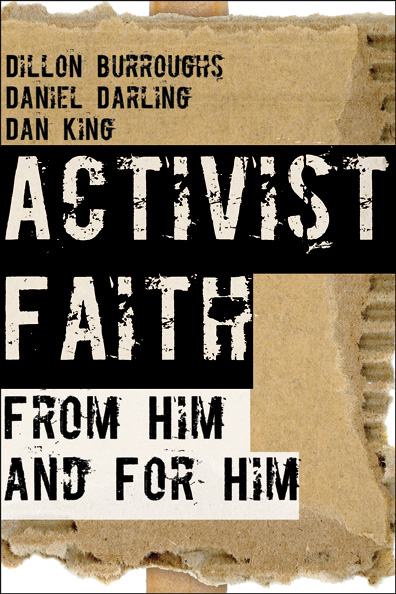 It's hard to believe, but that moment the every author dreams of is here. My fifth book, Activist Faith, is releasing next week with Navpress. This is unique of all my books for several reasons, not the least is that its my first collaboration. I cowrote Activist Faith with my two friends, Dan King and Dillon Burroughs. Dan is a gifted writer, blogger, activist. Dillon is a multi-published author, speaker, and professor. The idea behind this book is simple: let's take twelve hot-button issues in the culture and a) explore why Christians should engage them and b) offer ways that individuals and churches and help solve these issues, locally and outside of politics. We're not advocating a retreat from the public square by any stretch, but we're simply reminding Christians that there are great ways to solve problems that don't involve campaigns and picket signs and Facebook posts.
If you'd like to find out how you can roll up your sleeves and live out the gospel in your community, you'll want to preorder the book today.
I also invite you to check out the Activist Faith website, but first here is some more info about the book:


"Evangelicals are rethinking their involvement in politics, so this is a hot topic. It's a discussion worth having, and Activist Faith is at the cutting edge of the conversation."
– Matt K. Lewis, senior contributor, The Daily Caller
"The challenges facing our country and world are many. Daniel Darling, Dillon Burroughs, and Dan King provide thoughtful, biblically guided analysis of several of the most pressing issues of our day, challenging the church to let Scripture be our primary guide as we advocate for those who are vulnerable. Read this book, but don't stop there: Let it move you into prayerful action."
– Matthew Soerens, U.S. church training specialist, World Relief; author of Welcoming the Stranger: Justice, Compassion, and Truth in the Immigration Debate
"Authors Dillon Burroughs, Daniel Darling, and Dan King do a great job of luring much of the American Christian church to a conversation already taking place among far too few Christians. It is a discussion about 'elephant in the room' issues that usually reside with us for far too long without resolution. Read this book and take responsibility for these same such issues and for their solutions as you encounter them in your town, church, and home."
– Charles J. Powell, founder of Mercy Movement, Mercymovement.com
"Twenty-first–century Christ followers stand committed to reconciling the vertical and horizontal planes of the Cross: sanctification with service, holiness with humility, conviction with compassion, and righteousness with justice. In Activist Faith, the authors exhort us to find a cause greater than ourselves, one that marries the promise of salvation with prophetic activism. For a generation seeking to live out our faith, this book is a must-read."
– Rev. Samuel Rodriguez, president, National Hispanic Christian Leadership Conference
"This generation has more tools than ever before to help them live generously. Activist Faith explores the fundamental connection between the desire to engage in the world and the realities of what it will cost. More than anything else, it empowers you to do good work for the sake of the gospel."
– Mike Rusch, COO, PureCharity.com
"As Christians, we are called to make a positive impact on our world—to make it a better place. Activist Faithis one of those amazing resources that educate people on the issues and equip them to make a difference. A must-read!"
– Jen Hatmaker, author of 7: An Experimental Mutiny Against Excess
"The authors of Activist Faith challenge all who take their apprenticeship with Jesus seriously to closely connect what they profess on Sundays with how they live the life of true discipleship on Mondays. Combining an engaging blend of biblical principles, captivating stories, and practical ideas, the authors give a compelling picture of how the gospel speaks to some of the most challenging issues of our time. Taking this helpful book to heart will encourage you to be a more faithful presence in God's good but broken world."
— Tom Nelson, author of Work Matters
"Activist Faith is a compelling book that deals with some complex global issues. It is filled with stories of hope and struggle, helping the authors wrestle with what it means to have a faith that cares deeply for those who suffer. This hope-filled collaborative work will help us all learn what it means to love our neighbor."
– Chris Marlow, founder and CEO, Help One Now
"There has been a huge need for a book to give the theological background for why Christians should engage in social justice. Activist Faith fits that need perfectly. It provides solid biblical reasons  we should care about the poor, immigrants, and modern-day slaves as well as practical steps for how to take action."
– Sean McDowell, educator; speaker; author of Apologetics for a New Generation
"Activist Faith meets the need of our time, offering examples of Christians responding to the social concerns of our world in ways that make a genuine and significant difference. In a culture where criticism of Christianity is often the norm, these pages provide a fresh perspective of what God's people are doing to help those in their community and around the world."
– Brian and Heather Pugh, actors; founders, Team Hollywood