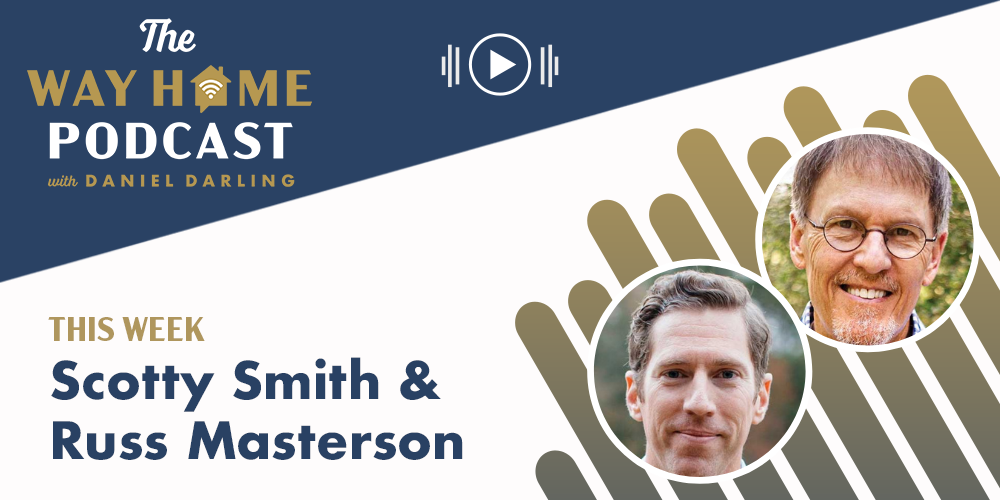 The Way Home: Scotty Smith and Russ Masterson on pastoring in this season
In this episode of The Way Home podcast I am joined by Scotty Smith, pastor of Christ Community Church in Franklin, Tennessee, and Russ Masterson, pastor of Christ the Redeemer Church of Marietta, Georgia. We talk about the pressures and burdens on pastors in this season. We also discuss how pastors can find hope and comfort and strength in the Lord and their new book "Searching for Grace: A Weary Leader, a Wise Mentor, and Seven Healing Conversations for a Parched Soul."
This episode of The Way Home Podcast is sponsored by the CSB Men of Character Bible.
In the CSB Men of Character Bible, renowned Bible teacher Dr. Gene Getz guides men through Scripture by exploring the lives of men of character found throughout the Bible. During the month of May, get 40% off the CSB Commentary Series at Lifeway.com.
Use promo code WAYHOME21 to register today for NRB 2021.
Podcast: Play in new window | Download
Subscribe: Google Podcasts | RSS | Stitcher
Show Notes
Scotty Smith Biography: Scotty Smith is the founding pastor and pastor emeritus of Christ Community Church in Franklin, Tennessee, which he pastored for 26 years. He presently serves as teacher in residence of West End Community Church. He also serves as adjunct faculty for Covenant Seminary, Westminster Theological Society (Philadelphia), Reformed Theological Seminary (Orlando), and Western Seminary (Portland). Scotty has authored ten books, including Unveiled Hope (with Michael Card) and Everyday Prayers. Scotty's blog, Heavenward, can be found on The Gospel Coalition website. Among his hobbies, Scotty enjoys photography, fishing, cooking, and exercise. Scotty and his wife of 48 years, Darlene, live in Franklin, Tennessee.
Website: www.thegospelcoalition.org
Book: Searching for Grace: A Weary Leader, a Wise Mentor, and Seven Healing Conversations for a Parched Soul
Facebook: @ByGraceAlone777
Twitter: @ScottyWardSmith
Russ Masterson Biography: Russ Masterson is the founding and senior pastor of Christ the Redeemer Church of Marietta. Russ served as a student pastor and a college and singles pastor before founding Redeemer Marietta. By God's goodness, the church has grown from three families to more than 350 people in seven years. Russ holds degrees from the University of Georgia and New Orleans Baptist Theological Seminary. He is the author of three books: a memoir, 40 Days without Food; a novel, Adao's Dance; and his newest release, coauthored with Pastor Scotty Smith, Searching for Grace. The past ten years of Russ's life have been filled with weekly study and teaching of God's one-way love for us in Jesus—grace without any conditions, which frees, heals, and empowers growth in grace. Russ lives in Marietta, Georgia, with his wife, three daughters, and a joyful labradoodle named Brother.