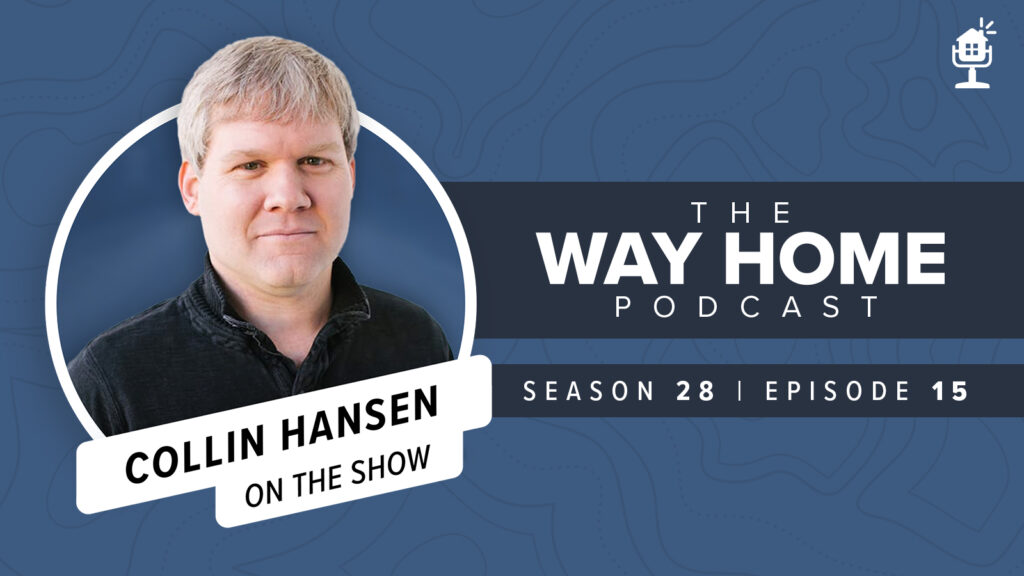 The Way Home Podcast: Collin Hansen on Timothy Keller's Biography
Today we have Collin Hansen joining us on The Way Home podcast. Collin Hansen is an influential Christian leader who just published a new biography about Timothy Keller who founded Redeemer Presbyterian Church in Manhattan, New York. Today Collin and I discuss the people who impacted Keller's spiritual and intellectual formation like R.C. Sproul, C.S. Lewis, and Jonathan Edwards.
Podcast: Play in new window | Download
Subscribe: Google Podcasts | RSS | Stitcher
Show Notes
Collin Hansen Biography: Collin Hansen serves as vice president for content and editor in chief of The Gospel Coalition. He hosts the Gospelbound podcast and has written and contributed to many books. He is a member of Iron City Church in Birmingham, Alabama, and he is an adjunct professor at Beeson Divinity School, where he also co-chairs the advisory board.
Books: Timothy Keller: His Spiritual and Intellectual Formation, Rediscover Church: Why the Body of Christ Is Essential, Gospelbound: Living with Resolute Hope in an Anxious Age, Faithful Endurance: The Joy of Shepherding People for a Lifetime, Our Secular Age: Ten Years of Reading and Applying Charles Taylor
Twitter: @collinhansen
As we enter this new year, and if you like what we're doing here on the podcast, with my books, and at The Land Center, I want to ask you to think about donating to The Land Center through Southwestern Theological Seminary. I also want to thank everyone for your general support in everything that we're doing.
Donate to the Land Center: https://join.swbts.edu/register/givelandcenter
My book Characters for Creation is available as a great resource for your Bible study this year.
To sign up for my writing cohort with Chad Poe on January 10th, you can fill out this RSVP form.