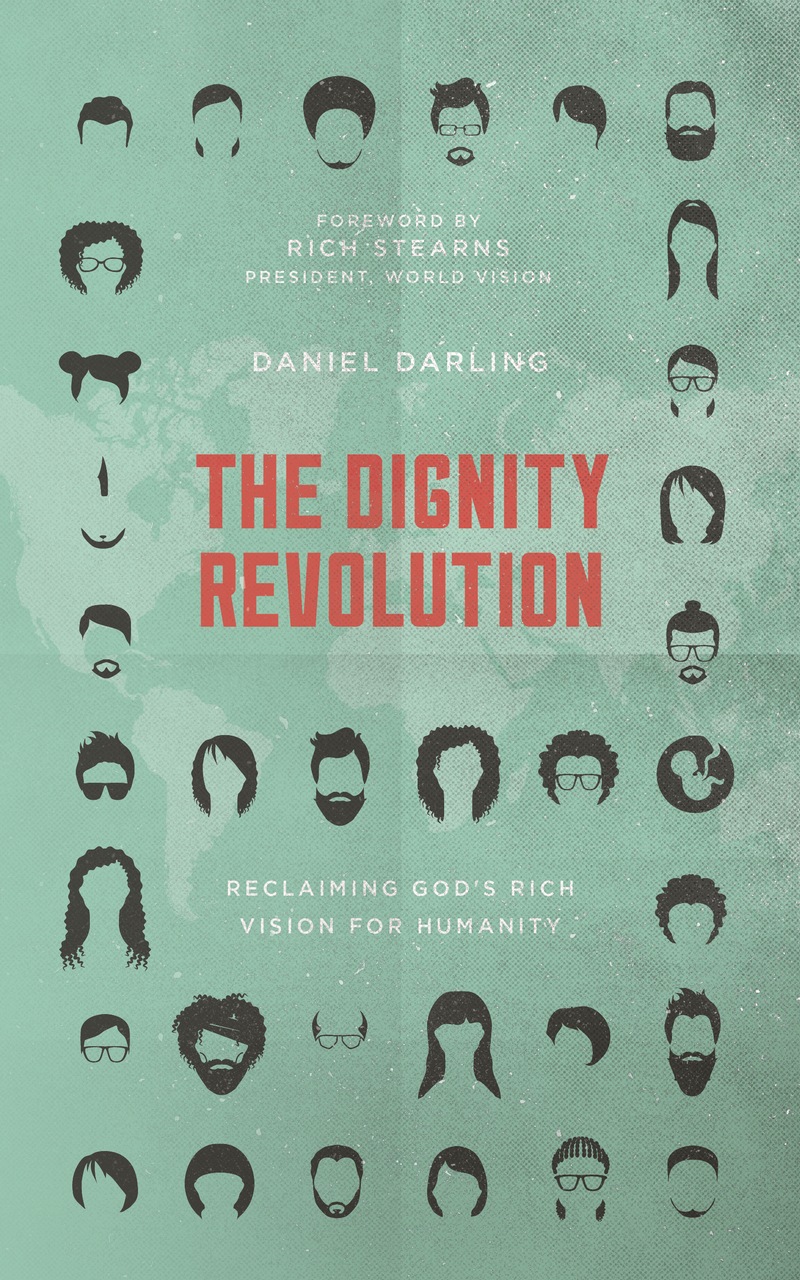 The Dignity Revolution
Reclaiming God's Rich Vision for Humanity
As Christians, we want to make a difference in this world. We want to have an impact not only on our immediate family and community, but on wider social issues. We want to protect the vulnerable and engage with the issues that really matter. But how?
This book shows us how wonderful, liberating and empowering it is to be made in God's image – and how this changes how we see ourselves and all other humans, and how we treat them and advocate for them.
Some will feel the call to run for office… others will roll up their sleeves and join the good work of non-profit ministry… and others might simply find little ways to incorporate this vision of human dignity into their everyday lives, and change their community one word, one action, one person at a time.
Each one of us can be, and are called to be, part of this new movement—a human dignity revolution that our societies need, and that we—you—are uniquely placed as Christians to be join.
This compelling book shows you how to join the dignity revolution.
Available at your favorite retailers:
We live in an age of mass confusion about what it means to be human. Our dignity is repeatedly attacked by new worldviews which undermine the significance of human beings. This book is a compelling and careful articulation of human dignity according to Scripture. The Dignity Revolution carefully traces the worth of human endeavors and articulates a compelling vision for what it means to bear God's image. Darling is a faithful guide on these issues and this book is a welcome resource for the church.
Albert Mohler
President, The Southern Baptist Theological Seminary
This may be one of the most important books of our time. This isn't a book to merely be read—this is an igniting catalyst of a desperately needed revolution that could turn everything around for every single one of us and this whole broken-hearted world.
Ann Voskamp
New York Times bestselling author of One Thousand Gifts
For years I thought that only the lives of elderly and medically fragile people were under assault—it's what happens in a culture that insists you are "better off dead than disabled." Now, however, the human dignity of families living on every cul-de-sac in America is under attack as the very definition of "human being" is altered. No longer is this an academic issue; it's impact is creeping into hospitals, schools, and businesses and our country is reeling. Daniel Darling's book is a must-read for every Christian looking for a solid language and good argument to halt the further dismantling of the sanctity of all human life. I highly recommend it!
Joni Eareckson Tada
Joni and Friends International Disability Center
Americans are longing for a vision of politics and public life that is grounded in principle, not partisanship, and Christianity demands such a vision. My friend Dan Darling offers such a vision here, grounded in the dignity of each and every human being as made in the image of God. Consider this book carefully, and then act to implement its vision in your personal and public life.
Michael Wear
Author, Lessons Learned in the Obama White House About the Future of Faith in America
To understand and address the many issues of our cultural moment, from abortion to racial injustice, we've got to start with the Imago Dei. The Dignity Revolution helps us recover this biblical concept, pushing and pleading with us to apply it constantly and consistently.
Matt Chandler
Lead Pastor of Teaching, the Village Church, Flower Mound, Texas; President, Acts29; Author, Take Heart
We need a revolution in our country of committed followers of Jesus who are consistently living out the value of human dignity in how we speak, act, think, and relate to one another. I'm grateful this timely book offers us a way forward in having a consistent pro-life public witness that will have enduring impact on the church and society at large.
Jenny Yang
Vice President of Advocacy and Policy, World Relief
Twenty-five years from now, if evangelical Christians are known for their promotion of human dignity, their love of neighbor, and their commitment to justice and mercy, the compelling vision of Dan Darling's The Dignity Revolution will be the reason why. This book belongs on the bookshelf of every serious American Christian.
Bruce Ashford
Provost, Southeastern Baptist Theological Seminary
The kingdom of God redefines for us who matters and what matters. Human beings are not the sum of their physical, economic, and mental powers. We are creatures who reflect, all of us, a picture of the Creator God. I know of no one who cares for human dignity more than my friend and colleague Daniel Darling. This book appeals to the imagination and the conscience about what it would look like were we to treat our neighbors, and ourselves, as created in the image of God.
Russell Moore
President, the Ethics and Religious Liberty Commission; Author, Onward
If you or your children are wondering whether evangelicals in the public sphere have anything to offer besides interest group politics, read this book. The Dignity Revolution is a terrific introduction to thinking Christianly about pressing social issues of our day. Daniel Darling has found and illuminated the common denominator: our dignity as creatures who are fallen but still made in God's image.
Dr. Marvin Olasky
Editor in Chief, World Magazine
If there's a revolution I'd like to join, it's this one! God calls us to love our neighbor as ourselves—and Dan Darling's book will assist us in that commandment. The Dignity Revolution will equip, challenge, and inspire readers to see people as God does. Thank you, Dan, for writing this timeless and important book—may we all have ears to hear.
Trillia Newbell
Author, United and God's Very Good Idea
The spirit of the day has proclaimed itself compassionate while failing to recognize the dignity of every person in every condition, under every circumstance. The Dignity Revolution details how the Christian doctrine of human dignity must guide our public engagement. Darling compels us not to be merely pious bystanders, but also vigilant servants determined to put our convictions into action on issues such as criminal justice, immigration, and religious liberty.
Justin E. Giboney
President, the AND Campaign
This book should be on the shelf of anyone wanting to seriously engage the most difficult topics and conversations of our day. Not only will it inform and equip you, but it will give you confidence in how Christians should respond to society's most difficult conversations.
Gabe Lyons
Founder, Q Forum; Author, unChristian and The Next Christians
I am proud to know the man that wrote this book. I'm proud to call that man my brother. It is not only good. It is important and refreshing. The timing of God is uncanny.
Beth Moore
author, Bible teacher, founder of Living Proof Ministries
Daniel Darling has provided us with an accessible, faithful, understanding, Christ-centered guide to some of the most pressing ethical issues facing us today. Our God-given dignity is good news for each one of us, and this book shows us why.
Sam Allberry
Speaker for Ravi Zacharias International Ministries; Author, Is God Anti-Gay? and Seven Myths About Singleness
In our current "hashtag age"—where virtues such as kindness, civility, and love are in decline—a new vocabulary and tone around the glory and worth of all persons is sorely needed. In this helpful volume, Daniel does a lovely job of championing such a vocabulary and tone. I commend to you… it will be well worth your time.
Scott Sauls
Senior Pastor, Christ Presbyterian Church, Nashville, Tennessee; Author, Jesus Outside the Lines and Befriend
You would think that by now we would appreciate the value of these two words: human dignity. But the daily news reminds us otherwise. And Dan Darling reminds us of the urgency of understanding the phrase in its rich biblical dimensions, and, most importantly, of living out the reality that every person on the planet is of immense value.
Mark Galli
Editor-in-chief, Christianity Today
I think most Christians could tell you that humans are made imago Dei, in God's image and likeness, but I don't think many fully grasp what that means or how to apply that fundamental Christian idea to our most pressing cultural concerns. This is tragic, because it is precisely on anthropology that Christians have so much to offer a confused world right now. This book is overdue and crucial, and should be required reading for all of us.
John Stonestreet
President, the Chuck Colson Center for Christian Worldview
The most important question of contemporary ethics, and perhaps in Western liberal culture itself, is whether the dignity of the person can be grounded in something other than arbitrary exertions of power. Significantly, this question arises at a time of unprecedented frustration with a binary left/right political imagination left over from the culture-war fought by my students' grandparents. Darling's book admirably shows that a properly-understood Christian ethic will avoid the idolatry of left/right-style secular politics while beautifully grounding the dignity of the person in ways which can both claim the conscience of the Christian and attract the attention of the curious non-believer.
Charlie Camosy
Associate Professor of Theological and Social Ethics, Fordham University; Board Member, Democrats for Life
Across all spectrums, human dignity is a flag Christians wave. It is central to our identity and mission. Standing athwart our polarized age, The Dignity Revolution points to the common ground we share and the broader mission we pursue.
Chris Horst
Vice President, Hope International
The journey of life is the story of people bearing the image of God. With the gospel always present, Dan Darling challenges us in to see the many roads human dignity travels, and to consider how consistent we are in respecting the sacred image God created us to possess. It is a challenge well worth taking on as we seek to reflect and honor God with how we live as Christians.
Darrell Bock
Executive Director for Cultural Engagement, Howard G. Hendricks Center
For many Christians, today's politics is deeply unsatisfying. One side cares about the unborn, but not about refugees. The other side cares about immigrants, but not the unborn child. Daniel Darling is leading a quiet revolution that transcends the old left-versus-right paradigm and, instead, summons us to consistently defend human dignity.
Matt K. Lewis
Senior Columnist, The Daily Beast; CNN Political Commentator