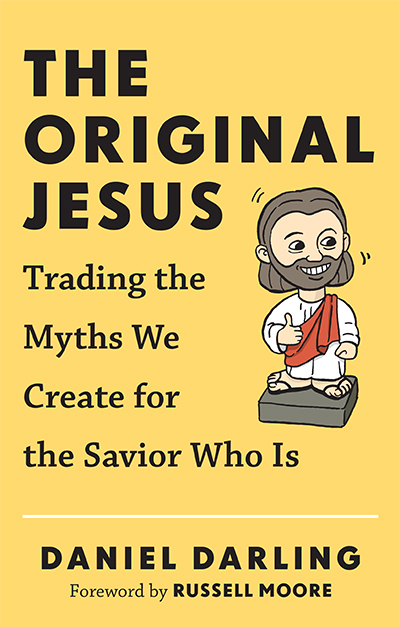 The Original Jesus
Trading the Myths We Create for the Savior Who Is
How often do you hear someone say, "the Jesus I know . . . " You've probably said it yourself. I've said it. But here's the problem. There isn't the "Jesus I know" and the "Jesus you know." There is only one Christ.
In this new book I take a look at ten different ideas of Jesus from pop culture and compare them to the Jesus we see revealed in Scripture. I also ask the question, why is it that we create a Jesus of our own imagination rather than accepting the Jesus who is?"
This was one of my favorite books to work on because I'm excited about the message: Jesus. Not the Jesus we want, but the Jesus we need.
Available at your favorite retailers:
If you have questions, or even frustrations, about the person of Jesus Christ–this book is for you. It cuts through our society's confusing and contradictory opinions about Jesus to find the glorious, wonderful reality of him spread throughout the pages of Scripture.
Jim Daly
president, Focus on the Family
This is a good book. It is well written and, in fact, a delightful read. It is biblically and theologically rich. It is also insightful and convicting. It will make some of you mad. Good! Hopefully God will use that to expose some areas of your life that need to be transformed and changed by his penetrating Word.
Daniel L. Akin
president, Southeastern Baptist Theological Seminary, Wake Forest, NC
In a world of cheap imitations of the gospel and false portraits of the Savior, Dan Darling's work makes me yearn to know better the biblical Jesus–the Savior who demands we worship him for who he is, not what we want him to be. And in that worship, we discover the true Jesus is even better than the false versions we construct. Read and be refreshed.
Trevin Wax
managing editor, The Gospel Project; author of Counterfeit Gospels, Clear Winter Nights, and Gospel-Centered Teaching
Remaking Jesus in our own image has been a problem for two millennia, but the abundant varieties of '(fill in the blank) Jesus' are especially pronounced in today's postmodern iWorld. Dan Darling'sThe Original Jesus offers an excellent, needed corrective, dispelling prominent Jesus myths with biblical clarity and witty wisdom. Darling reminds us that the Jesus who is far exceeds any Jesus we might want or imagine.
Brett McCracken
author of Gray Matters and Hipster Christianity
As fallen, finite people, we can't help but re-create Jesus according to our fallen, finite understandings. Yet, if we are to worship the Creator rather than the creation, we must strive to distinguish the Jesus of God's Word from the one cast in our own image. If you want to sort out the false Jesus of our culture from the true Jesus of the Bible, then you will want to read this book. The Original Jesus gathers up the fragments of our modern-day images of Jesus and begins–through faithful adherence to Scripture–to bond them back together.
Karen Swallow Prior, PhD
author of Booked: Literature in the Soul of Me and Fierce Convictions: The Extraordinary Life of Hannah More–Poet, Reformer, Abolitionist
…presents a a Jesus who is different than we would have chosen, but better than we could ever have imagined.
The Gospel Coalition
This book makes helpful reading for anyone willing to have his or her understanding of Christ critiqued and corrected.
Christianity Today
Shareable Images:
Spread the word about The Original Jesus