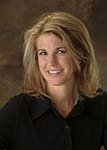 In 2005-2006, I had the privilege of volunteering to help a congressional candidate, Dave McSweeney, run for Congress here in Illinois' 8th district. What emerged from that race was more than a campaign. I became great friends with both Dave and his wife, Margaret. And today I have the privilege of interviewing Margaret McSweeney. Margaret has a heart of compassion and a gift for connecting people. In fact, she was the one who encouraged me to send my first manuscript to her friend, Andrea Mullins, from New Hope Publishers.
Margaret is an accomplished author and speaker. She has written A Mother's Heart Knows , Go Back and Be Happy, and is the editor of The Pearl Girls Book She writes for a variety of newspapers and publications and has interviewed notables such as Wolfgang Puck and Thomas Kinkade.
Margaret is the founder and director of  an organization called Pearl Girls. Pearl Girls is a remarkable effort that brings together well-known woman from across the country to share their stories and raise money for charities. Margaret serves with several charitable organizations and sits on the board of WINGS, which provides hope to victims of domestic violence.
Margaret is also the host of an Internet Radio Show called Kitchen Chat, where she interviews well-known authors, writers, and celebrities. Margaret and her husband Dave live in the Chicago area with their two daughters.
1) Margaret, one of your great gifts is bringing people together in community. Was this something you learned growing up with parents involved in ministry?
My father was someone who loved to bring people together for a common purpose of good and for God's glory.  He taught me to always make sure each situation is a win/win for everyone involved.   He was a visionary who truly lived faith as an action verb.  He enjoyed bringing people together through a shared meal.  He was quite a gourmet chef as well as an excellent college president.  The kitchen was a special place of fellowship. I always think of my dad each Friday as I bring people into my kitchen (virtually) via my new internet radio show Kitchen Chat.
2) You formed an organization called Pearl Girls that shares the stories of notable women and raises money for charity. How did that come about?
Like the oyster, women encounter unexpected grit in their lives, but the nacre of God's grace and lives covers their pain and turns it into a precious pearl.  Thus, Pearl Girls.  My personal grit was becoming an adult orphan.  The Pearl Girls book is a compilation of essays written by well known writers and new writers. With candor and vulnerability, each woman shares her personal pearl parable. My parents always encouraged me to "touch the near edge of a great problem and with some  personal sacrifice, act upon it and make a difference."    The tagline of Pearl Girls is "Connecting hearts and souls to impact the world." I am humbled and grateful that so many women understood the vision of connecting together for this project to make a difference in the lives of others. All the proceeds from this book go directly to help fund a safe house for women and children in the Chicago suburbs and to build wells for school children in Africa.
3) You're mother, Carolyn Rhea was a well-known Christian author. What lessons did you learn from her that have shaped your own writing and speaking ministry?
My 'mother was an incredible English teacher at the high school that I attended in Birmingham, Alabama.  (How odd it was to run into my mother in the Girls Bathroom at school).  She would always correct me when I spoke at home inserting the proper syntax, pronunciation or context of a word. And she always made me look up words in the dictionary that I didn't know.  (Dictionary.com would have come in handy growing up in my household).  My mother the epitome of excellent grammar in speaking and writing.  I can only inspire to follow in her footsteps.  She also taught me about grieving with faith.  Her final book When Grief is Your Constant Companion: God's Grace for a Woman's Heartache was published by New Hope the same time she was diagnosed with an unstoppable form of leukemia.  Her final gift to me was a lesson about how to grieve with faith.  This book has brought much comfort to me during these past seven years.  
4) You helped your husband, Dave, run for Congress in 2006. Running for office is not only a grueling test for a candidate but for the family. How has that experience shaped your ministry and life?
I am so proud of my husband, and it was an honor to stand by his side along with our precious daughters as he stood up for strong family values.  I have such fond memories of this time.  How humbling to meet many dignitaries along the way such as President and Mrs. Bush, Vice President Cheney, Senator John McCain, former Mayor Rudy Giuliani, Coach Ditka along with many other wonderful people who supported his candidacy.  But some of my fondest memories include meeting the incredible people of the 8th district.  Dave and I walked door to door.  ( He knocked on thousands more doors than I).  What a special experience to listen to the voters, meet their families, discuss their dreams and frustrations and to form lasting friendships with many of them – such as yourself and you're beautiful wife, Angela. Once again, it ties into the theme of connecting with the community and building relationships to make a real difference.
5) If you could could send one message to women today what would it be?
Actually, I have two quick messages for women.  The first is to connect!  Life can feel isolating at times no matter what stage of life you are experiencing.  Make an effort to connect with others and most importantly, connect with God.  And always remember that nothing is beyond God's grace!